OUR PASTOR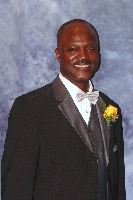 Rev. Alan M. Gould, Sr. is the pastor of Allen Chapel. He is a native of the eastern shore of Maryland.
Rev. Gould was ordained an Itinerate Deacon in 1981 and an Itinerate Elder in1983 at the Baltimore Annual Conference of the African Methodist Episcopal Church. He has served as pastor at numerous churches on the Eastern shore of Maryland including Collins Temple in Snow Hill, MD.; St. Paul A.M.E. in Crisfield, MD.; Mt. Olive A.M.E. in Salisbury, MD.; and the Historic Bethel A.M.E. church in Cambridge, MD.
Rev. Gould has received numerous awards and recognitions including the keys to the city of Crisfield by the Mayor and City Council, the Martin Luther King Humanitarian award by the Tri-County NAACP of Worchester, Wicomico and Somerset counties, honored by Alpha phi Sorority as an outstanding black preacher and role model for black males, and he has been the guest speaker at numerous civic and social events. He was also appointed by Maryland Governor Martin O'Malley to serve as a commissioner on the capital punishment committee in 2008.
Rev. Gould is married to Fay Waters Gould and they are the parents of four children. (Erica, Nicole, Alan Jr., Cherelle, son-in-law Derrick Crosby and three grandchildren, Logan Quinn, Derrick Crosby II and Jayden Korphi.)
Rev. Gould's motto is "No church is too small or large when it comes to Serving God's People." He enjoys preaching and singing and would just like to be recognized as "A Child of the King."
---
OUR MISSION
The mission of Allen Chapel A.M.E. Church is to prepare God's people for kingdom living through sound biblical principles and to recruit disciples for Christ. We stand as Christians who are physically accountable and spiritually responsible.
---
OUR VISION
A loving ministry for Christ that teaches the Word of God as a guide to daily living; focused on Kingdom Building and Community Service.
---
OUR MOTTO
"Loving God; Loving People; Loving Community"
---
OUR HISTORY
Everything has a beginning. And so it was with Allen Chapel A.M.E. Church. In 1870, a few dedicated people sought to establish a church for their community where God would be glorified through their worship. Henry Walker, Jerry Gaither, and George Gaither organized themselves as trustees and set out to purchase land under the auspices of the African Methodist Episcopal Church of the United States of America for the development of a church. Surely there were disappointment and frustration during their quest for land, but GOD blessed them when William and Lucretia Batchelor agreed to sell them one acre of land for one hundred dollars in an area originally known as "Providence" located in Wheaton, (Montgomery County), Maryland.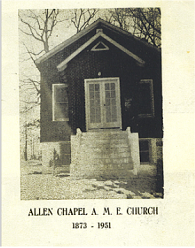 With a few members of the community, such as Augustus Dorsey and others, the foundation of the building was started in 1873. After toiling during the day making a living for their families, the members worked nights with the aid of lantern light. Then finally in 1875, the cornerstone was laid and the building was finished. The original structure was a single story frame building. The church was named ALLEN CHAPEL in honor of Richard Allen, the founder of the African Methodist Episcopal Church (A.M.E.).
The theme of the A.M.E. Church, "GOD Our Father, Christ Our Redeemer and Man Our Brother" burned in the hearts of the newly formed congregation and the community at large. Evidence of the church's outreach into the community was the founding of the Morning Star Lodge in 1875 by John Addison, Jerry Gaither, George Gaither and Richard Gaither. The Lodge was formed to lend moral and financial support to members of the congregation during times of personal crisis.
Not only were the founding church members concerned with worshiping and ministering to the community, but they were also concerned about educating the children in the community. In 1880, the church was the site of the first school for Black people in the Wheaton area.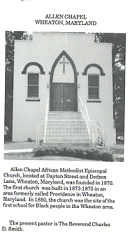 In the 1890's Allen Chapel AME was the mother church to many who traveled a distance to attend worship service there. Over time a number of them felt they were traveling too far, and needed a closer place to worship. That group went on to establish Lee Memorial A.M.E. Church in Kensington, MD, the offspring of its mother church, Allen Chapel A.M.E. Church in Wheaton, Maryland.
In 1957 a fire destroyed the roof, and the south most portion of Allen Chapel. With the help of God and dedicated members, the church was rebuilt (photo on the right). That basic structure still exists today.
Throughout the years, Allen Chapel has grown and prospered under the leadership of many pastors including Reverend Baron D.Young who came to Allen in 1993. Along with his wife, Reverend Karen L.Young, they led Allen Chapel through some turbulent times. Under their pastorate, the Allen church family remained strong through the turmoil and saw a significant increase in membership, expansion of ministries and programs in the church. Reverend Karen L. Young was instrumental in organizing and developing the Intercessory Prayer Ministry, The Women's Ministry, the Liturgical Dance Ministry and revitalizing our young women's mentoring ministry, Kidadah.
In 2000, New creation Baptist Church presented an offer to buy Allen Chapel and its grounds. Reverend Dr. Ella Redfield and her sisters often attended Allen Chapel where their grandparents and great-grandparents worshiped and found a resting place in the church cemetery. Believing this was a move of God, Reverend Young and the Allen Chapel Trustees recommended the sell Allen to New Creation. The members voted and agreed and now the old Allen Chapel home rests in the hands of Dr. Redfield and the New Creation Baptist Church family.
In March 2001, church leadership signed a deal to purchase a piece of property known as Covenant of Peace in the Fairland community of Silver Spring in eastern Montgomery County and in November of 2006, under the watchful eye and provisional hand of God, construction on the new Allen Chapel Church building began. During that 5 year wait, worship services were conducted at Paint Branch High School in Silver Spring.
Construction was completed in November of 2007 and on June 8, 2008, the church dedication service was held and the dedicatory sermon was delivered by Bishop Adam Jefferson Richardson, Jr. Presiding Prelate, Second Episcopal District.
On October 18, 2008, Rev. Alan M. Gould, Sr. became pastor. Reverend Gould has been instrumental in taking Allen to a higher spiritual level, as we continue to grow in membership and new ministries.
Established in 1870; flourishing in the 21st century, Allen Chapel continues to expand its kingdom building efforts in eastern Montgomery County through dynamic leadership, powerful preaching, spirit-filled teaching, and awe-inspiring community evangelism.
We have been blessed; we continue to be blessed, and give all the Honor, Praise and Glory to our Lord and Savior, Jesus Christ!
To God be the Glory!
"The things that are impossible with men are possible with God" Luke 18:27